How To Build a Growth Team?
In this article; As Arvech, we tried to give a detailed answer to a frequently asked question about growth team building. We discussed the issue of building a Growth Marketing Team in order to guide entrepreneurs who have not yet formed an idea on this subject.
In the literature and some sources, it is shown that it is possible to construct growth teams independently or directly in functional-based formats and different models according to workflows and metrics.
In this context, we have tried to summarize with the approach of how a growth team can be established, taking into account the entrepreneurship ecosystem.
We hope you can use the following topics in your business or redesign your existing Growth team.
What is Growth Team?
We can define the team that manages the growth marketing strategy, advances all the growth plans and takes part directly in the growth actions of the company as the Growth Marketing Team or the Growth Team.
The growth team members consist of highly competent, versatile, data-driven and risk-taking characters. They understand the importance of a product already in the market and works with different experiments in digital marketing to grow his customer database quickly but sustainably.
Most companies have different business units or departments for sales, product and marketing. The advantage of a growth team is having the ability to switch between these units and fill in the gaps. They consist of growth managers, engineers, data analysts, product managers, designers, and marketing professionals who constantly monitor and test potential experiments to see if they work.
Growth marketing teams work on how to formulate a user experience and execute the tools, discourses and technologies that motivate leads to conversion. These teams play a crucial role in keeping a company on the path to rapid growth and profit.
What are the Roles and Responsibilities of the Growth Team?
A growth team is responsible for using data analytics and areas such as different channels, conversion models, content studies, search engine optimization, user experience analytics, marketing automation actions, design studies, loyalty campaigns and partnerships to reduce friction in your buyer's journey. It can push your business towards ambitious goals and achieve this in different phases and markets.
They are agile, proactive and quickly adaptable teams. They also try new strategies or tactics by generating measurable insights with quantitative and qualitative data. They execute and iterate these plans.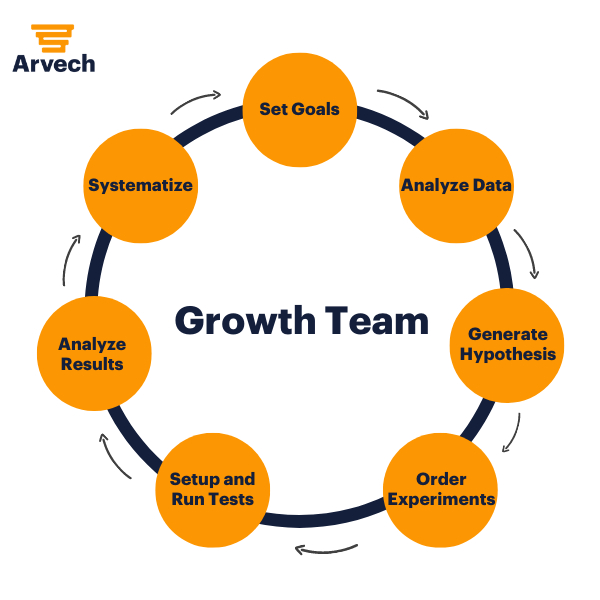 Growth teams must be encouraged to take risks and produce successful solutions. On this gruelling road, one should proceed with the mentality of trial and error and finding the best employee. When we examine the global successful startups or companies, we see that even the growth team members who make a lot of testing and error are rewarded.
Advantages of Having a Growth Team
Having a growth team, that is, a growth marketing team has many advantages in different ways. We can summarize the benefits of growth teams, especially in companies that aim to grow rapidly and sustainably, as follows:
Growth teams focus on continually improving the product experience, creating a customer-centric approach and perspective across the organization.
They lead businesses to cope with changing market conditions and help prevent possible unforeseen losses.
They allow new markets to be tested at less cost and help the company stand out from the competition.
Being cross-functional in nature makes it a habit to work more synchronized between various business units in the organization.
Growth teams make organizations and businesses agile as they improve their ability to test diverse solutions, validate conversions, and quickly measure opportunities.
They contact not only the marketing and sales departments of the company but also all units of the company and instil a holistic approach to working with other units.
They help improve the customer experience.
The metrics they report point directly to the company's profitability, growth and potential gains.
They directly affect the awareness and market share dynamics of the company.
Growth Marketing Team Structure and Establishment
We briefly touched on what the Growth team is, its importance for the business and the advantages it provides. So, how do we build this growth team, which has recently been included in almost the most established companies today? What talents or competencies will we build the Growth team from? From which position should we start first and, more importantly, when should we start building?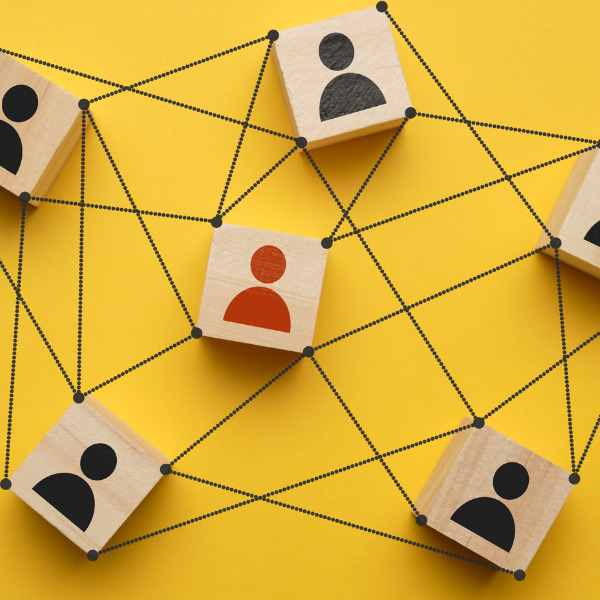 Starting with the last question, we can say that the sooner you actually start building your growth teams, the more beneficial it will be to you during the growth phase of your business. While the establishment of these teams may be much faster in large structures and companies, it is much more critical to establish this team by taking the right steps at the right time, especially in startups that have completed early-stage or certain tour investments. What are these steps?
One of the most obvious mistakes made in startups is to try to establish this entire team immediately. What matters is not the number of members in the team, but the quality of the teammates you include in the team. Therefore, it will be healthier for the person who will form this team to plan correctly and to progress phase-to-phase.
Aşağıda ideal bir Growth ekibi yapısının üyelerinden bahsedeceğiz ama günümüzde tam kadro bir growth ekibi kurmak hem çok maliyetli hem de emek ve zaman isteyen bir süreçtir. Bu yüzden bu yazının sonunda işletmeniz b2b ya da b2c olsun farketmeksizin, hangi roller ile başlamanız gerektiğine sizler daha iyi karar verebilirsiniz. Bu konuda hala şüpheleriniz varsa olarak sizlere nasıl bir ekip kurmalısınız konusunda destek olmaktan mutluluk duyarız.
We will talk about the members of an ideal Growth team structure below, but today, establishing a full-fledged growth team is a very costly, laborious and time-consuming process. Therefore, at the end of this article, regardless of whether your business is b2b or b2c, you can better decide which roles you should start with. If you still have doubts about this matter, we, as Arvech team, would be happy to support you on how to set up a team.
Growth Manager / Growth Marketing Manager / Head of Growth
Growth marketing manager, growth marketing director, team leader or manager… Although the name of the position in this field is defined in many variations in different organizational structures today, this position, which we can think of as the person who manages the growth team and is responsible for all team members, will be the most key role of the team. Therefore, in this position, we can definitely recommend that you find a growth marketing manager who has deep experience in this field, has previously managed a team and has project management skills, leadership qualities and very, very strong communication.
While the growth marketing manager basically manages the entire growth team, we can think of it as being responsible for all the growth metrics of the business. Maybe it and its team are responsible for many of the metrics that the owner or general manager looks at in monthly, quarterly or annual reports. It will not be possible to explain the importance of the position any differently.
In addition, the person who takes charge in this position is the person who will reveal the growth roadmap. This roadmap will also guide in determining the requirements on the part of human resource needs.
Growth Marketer / Growth Marketing Specialist
The employee in this position, which we can also think of as a growth marketing specialist, is the person who delves into your company's marketing strategies and puts new approaches into the testing process. It will be important that you determine the team member in this position according to the growth strategy in your business.
For example, if you have a plan focused on a lot of advertising channels, it would be much more accurate to choose a member here from talent with more experience in the field of performance marketing. Or, if you are going to do b2b marketing and content marketing is critical to your business, it would be better to include a team member who is more experienced in content writing, SEO or has different types of content creation skills. In summary, you can consider candidates who have basic marketing knowledge, have developed themselves in digital marketing or are eager to improve. According to your business model, you can be inclined to have more skills.
Today, the most sought-after qualifications in this type of position are what tools this employee can use. But this is one of the fundamental mistakes made. Does it have a growth marketing perspective rather than what tools can it use? Can it operate many processes by itself or is it open to manipulation? We think that issues such as whether both analytical and creative intelligence are strong are areas that need to be questioned much more.
Full Stack Developer
This growth marketing team member will be a resource where you can get coding support, especially for your product and website. If software needs arise in terms of growth tactics, this developer will speed up and facilitate your work. A developer can also help resolve and improve issues, especially on the UX or UI side.
This team member, whom we see more frequently in end-to-end growth departments with a larger staff, rather than small growth teams, will again be one of the important and frequently requested support or consultations of the team.
Product Manager
We can consider this position in the Growth team, which is directly responsible for the product and also assumes responsibility for products such as websites or mobile applications, as a teammate that must be included in growth actions and processes.
In every scenario where the product manager and the growth manager work one-on-one, the growth phase of the product will jump into an era. Making the necessary optimizations from the perspective of the party designing and managing the product, collecting user behaviour analysis and feedback from the marketing side, and taking the necessary product development steps accordingly will result in a more idealized product.
Designer
When we separate the two important asset types in marketing as content and design, we can consider the design position as one of the indispensable areas in growth marketing teams. In some places, there may be times when the content prolongs the process of explaining the subject, hinders the conversion rate or weakens the user experience. We can see that a good design clears things up as if by magic.
Designers can use psychological triggers that influence your customers' purchasing decisions and present you with potential opportunities you never expected. In this respect, they can sometimes approach the subject creatively, and sometimes they can benefit from data.
Content Lead / Content Marketing Specialist
Whether the business is in the b2c or b2b space, we strongly recommend having a content producer in the core team of growth marketing. Apart from just writing blog content or copywriting, this will actually be the key role in product mastery, understanding the benefit of the product to the end-user or end customer, and then transferring it.
The main task of this position is actually primarily the production of content in a creative and competitive way (content creation). Its secondary task is actually the distribution of this content in target digital channels (content distribution). On the other hand, it is to report the performance of this content, which is distributed or shared in relevant places, and to measure its contribution to the business.
The content creator or lead should also have command of search engines (Search Engine Optimization) and take responsibility for keyword analysis, competitive analysis and correct implementation of the content strategy.
Community Builder / Community Manager
This position, which we can call the community manager, has reached a valuable point in the field of marketing today. In fact, it has become a big trump card in marketing to benefit not only from customer data but also from the effects of those who follow, own or create communities for this brand. Directing this trump card correctly, using it and using it to add value to the brand is among the important duties of this position.
The community manager is the forward face of your growth team. He is the person who will help you grow your business by connecting you directly with your current customers or people who are likely to buy from you in the future. This person links traditional marketing acquisition to longer-term value acquisition and can take responsibility for engagement, lifetime value and customer satisfaction metrics in relevant social media. It constantly analyzes and manages the business not only on social media but also on third-party channels such as forums, communities, discord servers, and slack channels in the industry where the business is involved.
Data Analyst / Data Scientist
Finally, you will need one more team member who is very good with numbers and data. He has the ultimate responsibility for deciding whether the tactics the team produces are moving towards the desired results.
Your data analyst should be skilled not only at interpreting analytics but also in choosing the right metrics in the first place and determining the tools needed to measure them. This person is well versed in ways to connect different data sources. It shares meaningful results from this data with the team and allows them to translate them into new tactics.
It aims to provide maximum return on marketing expenditures by providing tangible data that measures growth. It prevents unprofitable tactics from taking longer than they should. It helps the company to accelerate faster.
How to Measure the Success of the Growth Team?
A growth team aims to provide speed, quality and impact to the business with its experiments and tests. In other words, it tries to find quick solutions to problems. However, it always prefers to find solutions that allow for permanent and significant uptrends, even if they take longer to find.
The growth marketing team sets and tracks measurable goals, such as increasing conversions, referrals, or records collected, to determine if a tactic is successful. They also report all of them.
When we look at it as an aggregate, the metric-based outputs of all the plans and tactics that the growth team put into action during the entire period (you can take this period into account monthly, quarterly or annually) will actually give you an idea about the performance of the growth team.
It may take some time to get the results of the work that the growth team has begun to carry out. During this time, the team actually begins to sow the seeds, experimenting with tests and tactics. It weeds out the unsuccessful ones and invests more in good yields. Therefore, the important thing in measuring the performance of the team is to be patient until the return of the growth marketing investment is seen. It will take some time to pay off the investment in this team. Being hasty about this time will save you both cost and time.
As Arvech, we have led many times in the establishment of these teams in the initiatives we have worked with before, we have carried out in-depth studies and provided support to the determination of the right positions and the placement of the right candidates for these positions.
If you want to know more about building or redesigning a growth team, you can always contact us