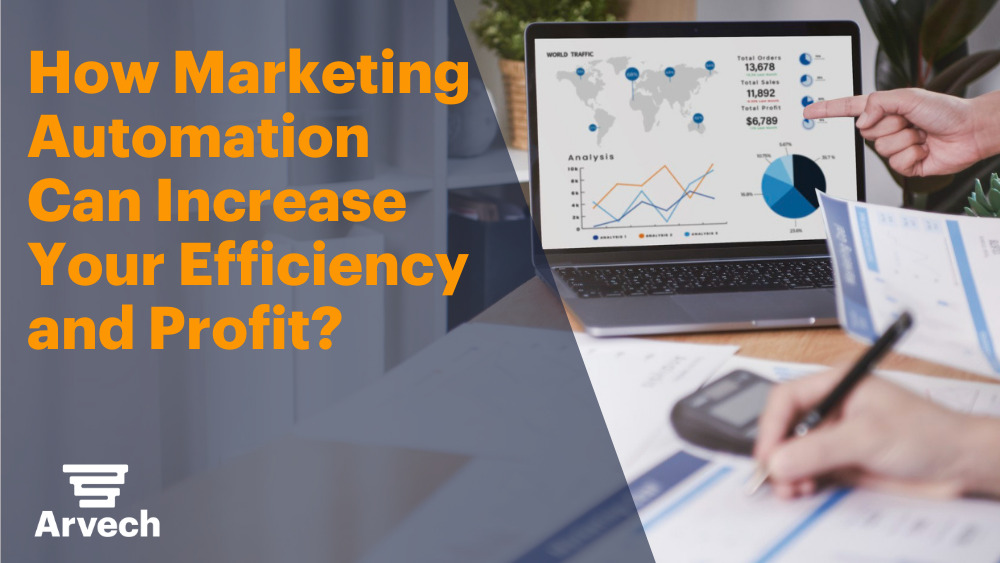 How Marketing Automation Can Increase Your Efficiency and Profit?
Marketing automation, which we will discuss in this article, has become increasingly popular, providing a competitive advantage in today's rapidly changing market environment. This automation, which has become an indispensable part of today's marketing strategies, has been used increasingly in companies of all sizes to increase efficiency in marketing, improve customer experience and increase sales. This article will provide basic information about marketing automation and interpret how companies and marketers can benefit from this technology.
What is Marketing Automation?
Marketing automation is the collection of software and technologies a business uses to automate its marketing activities. These technologies include email marketing, social media management, customer data analysis and segmentation, A/B testing, landing page creation and conversion optimization. It aims to increase the marketing team's efficiency, helping the brand communicate more effectively and personalized with customers.
How Marketing Automation Works?
Marketing automation is used to collect and analyze customer or potential customer data and behaviour and to create personalized marketing campaigns or tactics for specified target customer segments.
Here are the steps on how it works:
1.) Collection of customer / potential customer data
Monitors and collects customer interactions so you can access analytics outputs to learn more about your leads, potential customers and customers.
2.) Data Analytics
The data collected reveals information such as through which marketing channels customers are reaching you, their demographic information, contact information, requests or feedback, which products they purchase, the categories of these products, and much more.
3.) Creating personalized marketing campaigns
Allows the creation of personalized marketing campaigns based on customers' preferences. It publishes these campaigns and gives you feedback on their performance.
4.) Execution of campaigns
Automatically executes the created marketing campaigns and delivers them to the customers. It provides instant follow-up about the campaigns and informs you about the open rate, click rate, or conversion rates.
5.) Monitoring of marketing performance
These tools also monitor the performance of campaigns and provide reports so that necessary changes can be made for the efficiency of campaigns, conversion rate optimization and customer experience optimization. So marketing teams can manage their budgets more effectively.
Benefits of Marketing Automation for Your Business
Automation in marketing is an important technology that automates the marketing process of a business. This technology also plays a critical role in the customer journey of businesses.
It enables businesses to adopt a more strategic approach and use time and business resources more efficiently. It also allows businesses to collect more data on customer behaviour and helps them create more effective marketing campaigns using this data.
Marketing automation lets customers track their shopping habits and send personalized marketing messages. This, in turn, allows customers to show more interest and remain loyal to the brand.
It also improves the customer support process of businesses. By using automated response systems and chatbots, businesses can respond to customer requests or questions more quickly and effectively. This increases potential customer acquisition and customer satisfaction and reduces customer churn.
To summarize all these, we can state the benefits on a metric basis as follows:
Better customer experience,

Better interaction with customers,

Higher conversion rates

Increased customer loyalty and more sales
More importantly, it makes all your marketing processes measurable.
What is Marketing Automation Tool? 
Marketing automation best practices include understanding the customer journey, sharing the right messages with customers, delivering personalized experiences, analyzing customer data, and monitoring customer behaviour.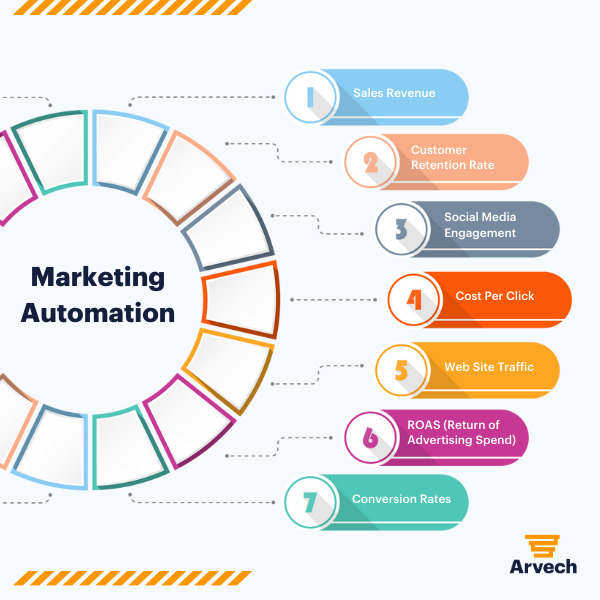 Many marketing automation tools such as Zoho, Salesforce Marketing Cloud, Hubspot Marketing Hub, and Marketo provide businesses with the technology needed to implement these best practices.
These tools offer a variety of features to help automate your customer journey and marketing processes. These include email marketing, social media management, customer segmentation, campaign management, personalization, automated response systems, and more.
Features and pricing vary by the needs of businesses. What matters is your business model and which parts you want to automate in your sales-marketing processes. As the Arvech team, we can support you and help you choose the right tool if you are still looking for a starting point in this topic. We can guide you correctly with our experience and business partnerships, especially in automation tools like Hubspot and Zoho, which we actively use in many projects.
The Best Practices for Marketing Automation
Here are some best practices to move forward successfully in the marketing automation process:
1.) Define your strategy and stick to your roadmap: Visualizing and mapping the automation process can be a good way to start. It will be valuable for you as an asset that you can look back on to clarify which processes you will include in automation and which processes will continue to progress with human effort.
2.) Segmentation: You can use automation tools to group your potential and active customers according to their characteristics and create more customized marketing tactics.
3.) Create personalized messages and content: Sending email campaigns with personalized messages to customers is an effective way to offer special discounts and promotions that may interest your customers.
In addition, marketing automation is an ideal tool for tracking the movements of your customers and delivering the right messages at the right time.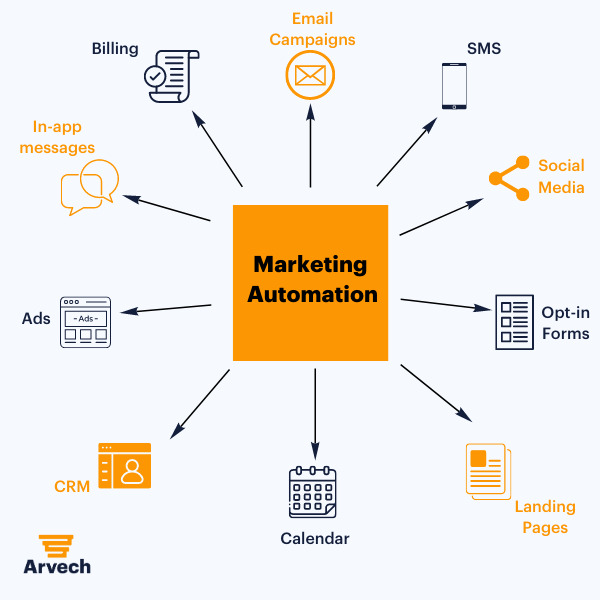 4.) Integrate 3rd party tools and marketing channels: Depending on the capabilities of the marketing tool you use, integrate your marketing channels and 3rd party growth tools into your automation system to track and manage as much data and analytics as possible from a single place.
5.) Analyze your data: These tools allow you to gather better insights by monitoring your customers' online behaviour. By analyzing this data, you can better understand your customers' needs and behaviours and tailor your marketing tactics accordingly.
6.) Align your sales and marketing teams and measure their performance: Looking at the same data or report screen is important for sales and marketing team alignment. Such automation tools are workspaces where they work together, coordinate, and feed each other with data. 
You can also set KPIs on these tools for your sales and marketing teams and easily track their performance here.
5 Critical Differences Between CRM (Customer Relationship Management) and Marketing Automation
While CRM focuses on customer relationship management and more customer data, marketing automation software focuses on automating marketing activities and efforts.

While CRM creates a central database for customer information, automation creates customer profiles based on how customers respond to and interact with marketing materials.

While CRM is used for collecting, managing and analysing customer information, automation monitors customer behaviour, planning, executing and analyses campaigns.

CRM tracks customer interactions and manages customer service processes, while automation software is used to optimize the customer journey, segment lead lists, and increase customer acquisition.

CRM is a tool used in customer relationship management and is used in all departments of an organization, while automation software is used only by the marketing (and/or sales) department.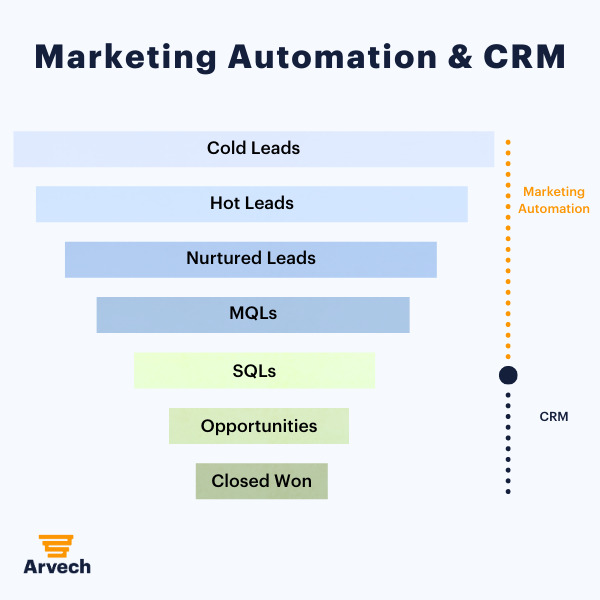 The Future of Marketing Automation
Automation technology in marketing tools is developing day by day, and we can say that it is pregnant with essential developments in the future. We can summarize some of them below:
Artificial intelligence
These systems will become smarter thanks to artificial intelligence technology. Artificial intelligence algorithms will analyze customer behaviours and preferences, allowing more accurate and effective marketing strategies to be created.
Personalization
In the future, these softwares will deliver more personalized experiences. This will help increase customer loyalty by providing customized messages, offers and campaigns based on customers' interests, purchase history and other characteristics.
Voice Call
Developing voice search technologies will lead to changes in marketing automation systems. These systems will be optimized to respond to customers' voice search queries, and the use of this technology will increase to reach more customers.
Faster and More Effective Campaigns
Emerging automation systems will offer more automation features to manage campaigns faster and more effectively. This will allow campaigns to launch faster, reach more customers and achieve a better ROI.
Top Resources of Successful Marketing Automations 
You can check essential resources (most of them are also leading tools in this area) below to help you understand more about marketing automation technology.
HubSpot: HubSpot is a pioneer in marketing automation and offers a wealth of free resources and templates for marketing process automation. These resources include blog posts, ebooks, video tutorials, and webinars.
Marketo: Marketo is another leading company in marketing automation software and shares many resources. These resources include ebooks, blog posts, video content, and more.
Pardot: Pardot is a martech software that is part of Salesforce, and you can still benefit from its blog posts and video content.
Eloqua: Part of Oracle, Eloqua is again a pioneer in marketing software. Primarily this product is used by the marketing departments of big brands worldwide. You can reach many resources on their website.
MarketingProfs: MarketingProfs is another excellent resource that offers educational content on automating marketing actions. We highly recommend that you follow their content and comprehensive newsletter.
You can also reach the marketing automation tools used in B2B marketing from Gartner's page here and make detailed comparisons between these tools.
These resources can give you different perspectives on marketing automation and include many resources suitable for different learning styles. You can develop an in-depth understanding of marketing automation by reading or watching these resources.
If you have any questions or comments about this article, share your message here!